Rat in Pleasant Grove, UT
Jitterbug Pest Control offers safe and reliable pest management to homes and businesses in Pleasant Grove, Utah. Spider Control is safe and effective. Black Widows and Hobo Spiders in the 84062 area code hate our company because we get rid of spiders! We offer affordable regular maintenance programs or one-time treatments.
Some of the pests that are included in service are Rat, Mice, Hobo Spider, Snails, Spiders, Garden Spiders, Rat, Moths, Yellow Jackets, House Spider, Pillbugs, and other bugs and pests.

Call Today:

801-766-9390



Rodents
Rodents compete for the same food, water, and shelter that are used by humans. They adapt extremely well to almost any environment. They can multiply at astounding speed, and will breed throughout the year. Annoyance is not the biggest problem rodents bring to humans - but their ability to bring sickness and disease. Murine typhus, Rickettsial Pox, Salmonellosis, Rat-bite Fever, and the Hantavirus are only some of the sickness that can be passed from rodents to humans (via feces, urine, fleas, or actual bites).
House Mice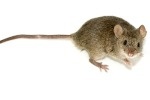 (body 3-4 inches, tail 3-4 inches, large ears, small eyes) House Mice are found in every neighborhood. They are nocturnal animals (doing most of their work at night). Because of their size, mice can enter into a home through a hole as small as ¼ inch. Mice are very curious, and get into almost everything.
Norway Rat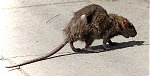 (body 7-10 inches, tail 6-8 inches, small ears, small eyes) Norway Rats are also called "House Rats" or "Sewer Rats". They are the largest rodent that commonly infest homes. They are more cautious than House Mice. Outside, they will burrow in the ground to make their nest. Inside, they often build their nest in garages or other protected areas. Fires have been caused by rats gnawing on electrical wires. Norway Rats can jump up to 3 feet and as far as a yard. They sometimes attack when threatened or trapped. Norway Rats can eat 20-40 lbs of food per year while contaminating much more.
Voles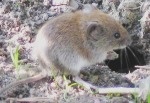 (body 3.5-5 inches, tail 1 inch, ), stocky build and small eyes distinguish them from true mice) Voles are also called "Meadow Mice". They breed year round and do not hibernate. If conditions are right there can be up to 500 voles living on 1 acre. Their population size can vary each year. The greatest damage often happens during the winter when snowfall is heaviest. Spring/Summer damage can go unnoticed because food sources are readily available. They can have many surface runways or underground tunnels with many burrow entrances.
Choose a pest below to learn more about Pest Control in Pleasant Grove